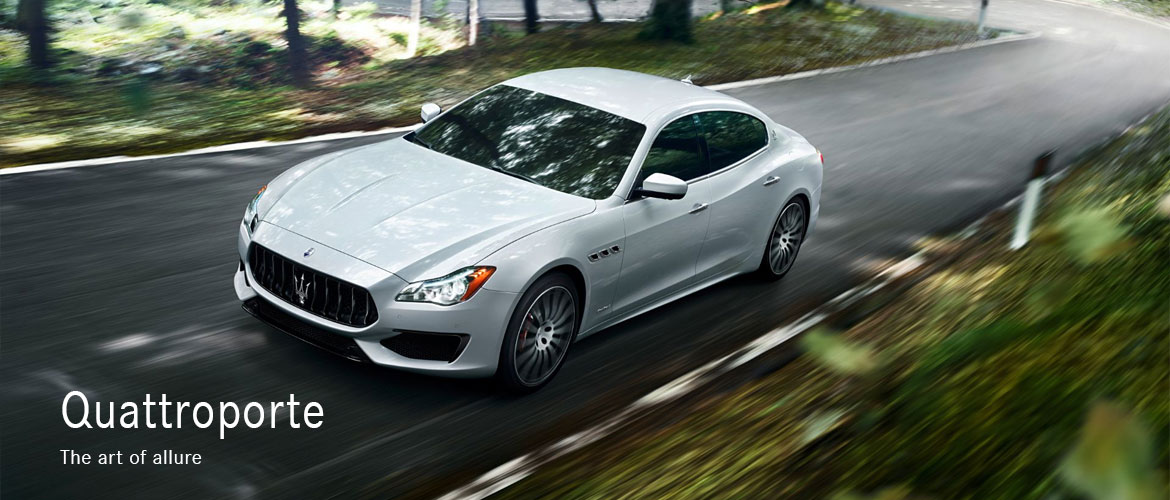 Overview __________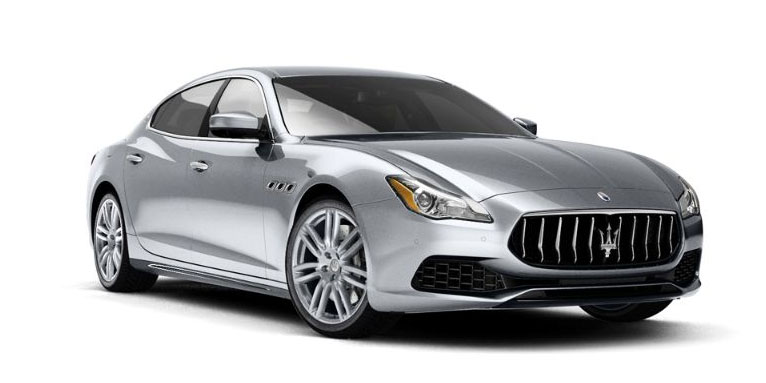 Racebred engineering in a luxury sedan.
Three remarkable engines. And a world of opportunities for the entrepreneurial connoisseur.
It is universally acknowledged that Italians lead the world in car design, imbuing their cars not only with great beauty, but also adding that intangible touch of genius called 'allure'. A prime example of this is Quattroporte: cultured and refined, it is a masterpiece of sophistication, aesthetics and aerodynamic elegance.
Specifications __________
| | | | |
| --- | --- | --- | --- |
| | Quattroporte S | Quattroporte S Q4 | Quattroporte GTS |
| Length | 5262 mm | 5262 mm | 5262 mm |
| Width (without side mirrors) | 1948 mm | 1948 mm | 1948 mm |
| Width (with side mirrors) | 2128 mm | 2128 mm | 2128 mm |
| Height | 1481 mm | 1481 mm | 1481 mm |
| Wheelbase | 3171 mm | 3171 mm | 3171 mm |
| Front Track | 1634 mm | 1634 mm | 1634 mm |
| Rear Track | 1647 mm | 1647 mm | 1647 mm |
| Front Overhang | 968 mm | 968 mm | 968 mm |
| Rear Overhang | 1123 mm | 1123 mm | 1123 mm |
| Turning Circle | 11.8 m | 11.8 m | 11.8 m |
| Boot Capacity | 530 l | 530 l | 530 l |
| Fuel Tank Capacity | 80 l | 80 l | 80 l |
| Dry Weight | 1760 kg | 1820 kg | 1800 kg |
| Vehicle Weight | 1860 kg | 1920 kg | 1900 kg |
| | | | |
| --- | --- | --- | --- |
| | Quattroporte S | Quattroporte S Q4 | Quattroporte GTS |
| # of Cylinders & Layout | V6 60° | V6 60° | V8 90° |
| Displacement | 2979 cm³ | 2979 cm³ | 3799 cm³ |
| Bore | 86.5 mm | 86.5 mm | 86.5 mm |
| Stroke | 84.5 mm | 84.5 mm | 80.8 mm |
| Transmission | Automatic 8 gears | Automatic 8 gears | Automatic 8 gears |
| Compression ratio | 9.7:1 | 9.7:1 | 9.5:1 |
| Maximum power output | 410 HP (302 kW) | 410 HP (302 kW) | 530 HP (390 kW) |
| Engine speed @ max power output | 5500 rpm | 5500 rpm | 6500 - 6800 rpm |
| Peak torque | 550 Nm | 550 Nm | 650 Nm |
| Engine speed @ peak torque | 1750 - 5000 rpm | 1750 - 5000 rpm | 2000 - 4000 rpm |
| Overboost torque | --- | --- | 710 Nm |
| Engine speed @ overboost torque | --- | --- | 2250 - 3500 rpm |
| | | | |
| --- | --- | --- | --- |
| | Quattroporte S | Quattroporte S Q4 | Quattroporte GTS |
| Maximum speed | 286 km/h | 286 km/h | 310 km/h |
| Acceleration (0 to 100 km/h) | 5.1 s | 4.9 s | 4.7 s |
| Stopping distance (100 to 0 km/h) | 35.5 m | 35.5 m | 34 m |
| Fuel consumption – combined cycle (l/100 km) | 9.6 (29.4 mpg) | 9.7 (29.1 mpg) | 10.7 (26.4 mpg) |
| Fuel consumption – urban cycle (l/100 km) | 13.8 (20.7 mpg) | 14.2 (19.9 mpg) | 15.6 (18.1 mpg) |
| Fuel consumption – extra urban cycle (l/100 km) | 7.2 (39.2 mpg) | 7.1 (39.8 mpg) | 7.9 (35.7 mpg) |
| CO2 emissions – combined cycle (g/km) | 223 | 226 | 250 |
| CO2 emissions – urban cycle (g/km) | 321 | 330 | 363 |
| CO2 emissions – extra urban cycle (g/km) | 167 | 165 | 184 |
| Regulation | Euro 6 | Euro 6 | Euro 6 |